Introduction
Greetings to the NLT community,
As we gather our thoughts, stand back, and look over the sprawling canvas of the past 23 years, the journey of New Light Technologies (NLT) comes across as nothing short of extraordinary. Each year, each milestone, and each challenge have added a unique brushstroke to this canvas, making it a masterpiece of dedication, innovation, and collaboration. Let's dive deeper into the unforgettable stories, monumental achievements, and heartwarming memories of the past year.
A Retrospective on Progress Towards the Year 2023
GEO SWRM Conference, 2023: Our participation in the 2023 GEO SWRM Conference was not just an event; it was a statement. It was a testament to our unwavering commitment to geospatial technology and severe weather resilience. As we interacted with fellow visionaries and showcased our advancements, the conference solidified our leadership stance in the geospatial arena.


Planet Explore Conference: NLT made a prominent appearance at the Planet Explore Conference, emphasizing our commitment to harnessing cutting-edge geospatial technologies. Our collaboration with Planet is continuing to be pivotal in driving geospatial innovations forward.


WDCEP Annual Meeting: Our partnership with the Washington DC Economic Partnership (WDCEP) was showcased during their 2021 Annual Meeting. Here, NLT proudly unveiled the DC Real Estate Market Explorer, a testament to our efforts in enhance transparency and accessibility in the real estate sector through advanced geospatial solutions.


Unveiling IMPACT:

At the forefront of disaster response is NLT's "IMPACT." This state-of-the-art platform harnesses geospatial data and AI to deliver real-time disaster impact assessments. Designed to equip decision-makers with immediate, actionable insights during emergencies, IMPACT epitomizes our dedication to fostering safer, more resilient communities. Dive deeper into its pioneering features at

IMPACT

.




ESRI UC 2023: The ESRI UC 2023 further echoes our pioneering position. With an intense focus on advanced mapping and analytics, our team shared insights that were not just well-received but celebrated. This event emphasized our profound expertise in GIS technologies and the value we bring to the table.


REDICOP Virtual Kickoff, September 2023: When it comes to revolutionizing emergency response methodologies by means of remote sensing, our collaboration with MIT Lincoln Laboratory during the Remote Sensing in Disasters Community of Practice (REDICOP) virtual kickoff stands tall. The focus was crystal clear: to emphasize the transformative potential of remote sensing in disaster management, under the direction of Dr. Ran Goldblatt and Katie Picchione from MIT Lincoln Laboratory. With minds merging and technologies intertwining, we're setting the stage for a safer tomorrow.


Collaboration with URSA Space: Our alliance with URSA Space is a beacon of hope for advanced disaster management. Employing SAR data as its backbone, this collaboration is turning the vision of rapid, efficient disaster response into a tangible reality. Read an example of our collaboration with Ursa Space, here.


Leveraging Data Science for Armed Conflicts Insights: Through data science, NLT provides a deep understanding of the socio-economic impacts of armed conflicts. Our study reveals patterns and ramifications essential for informed decision-making.


Strengthening Bonds with Our Partner Ecosystem: Our strong partner ecosystem, which includes top software and data providers, shows how strong we are as a whole. Together with our consulting partners, we have started world-class projects that are full of excellence and new ideas. These partnerships are important not only for the technical skills they bring but also for the shared goal of making communities safer, smarter, and more connected. We are deeply grateful to all of our partners for their contributions to this journey.


Pioneering Achievements in GeoDevSecOps:
Notable accomplishments have characterized NLT's journey in GeoDevSecOps. Dr. Ran Goldblatt's innovative work in cloud-based remote sensing marked a significant milestone.
However, we didn't stop there.

This year, Brooke Hatcher, with her relentless passion and forward-thinking approach in the geospatial sector, was recognized on a global scale. She was proudly featured as one of the "Rising Stars" of 2023 by Geospatial World, further solidifying her standing as an influential force in the geospatial community.

Brooke's recognition places her among a select group of professionals shaping the future of geospatial technology. This honor, coupled with her outstanding contributions as part of the URISA Vanguard Cabinet, emphasizes the depth of talent within our team.


A Unified Front Against Infectious Diseases: The Wellcome Trust Award, in collaboration with UNICEF and UC San Diego, is more than an accolade; it's a responsibility. We're not just building tools; we're laying down the pillars of a resilient platform to battle infectious diseases on a global scale.


Further Highlights: Our robust presence at the ESRI UC, ESRI Federal User Conference, the exciting collaboration and ventures with partners like Esri, Dewberry, NAPSG, Baker, Planet, ICEYE, and others, especially in support of FEMA, further attest to our dynamic role in the domain. To every team member who played a part in these and other endeavors, thank you. Your dedication fuels our collective achievements and shapes our legacy. Each narrative from 2023 is a testament to our relentless pursuit of innovation, rich with insights and milestones.
In the Limelight: Dan Northrup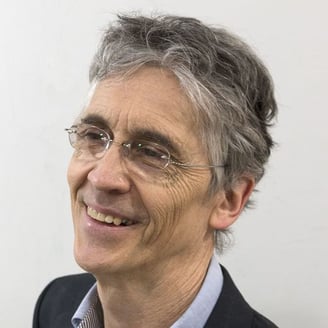 Daniel Northrup's 20-year legacy with New Light Technologies (NLT) stands as a model of dedication and expertise. Serving as a Senior Consultant & Business Analyst, he's masterfully blended intricate technology with real-world solutions. From spearheading transformative projects with government agencies to his pivotal roles in community-centric endeavors like the DC Access System, Dan's commitment has been unwavering. With strong academic roots from New York University and Boston University, coupled with vast technical proficiency, Dan embodies NLT's mission and vision in every project he touches.
As we celebrate the milestones achieved over two decades, a chat with Dan Northrup unveils a vivid narrative of New Light Technologies' (NLT) growth and evolution.
Steadfastness Amidst Growth: Reflecting on the company's evolution, Dan recalls, "Even as we've slowly grown, NLT has preserved the same flexible, small-company culture from my early days here. It's like a small-town setting where, despite our external affiliations, we've fostered strong, supportive relationships with our NLT colleagues."
Diversity in Expertise: What especially stands out for Dan when looking back over the 20 years is the wide array of projects he's engaged in. "The various disciplines NLT introduced me to are remarkable. From data analysis using diverse scripting languages to requirements analysis, from health care case management to ID card operations, each project presented a unique challenge and avenue for growth."
Witness to Team Evolution: While he's been focused on certain areas of consulting engagements, Dan praises the team's growth. "The Management Team at NLT continues to rope in great talent. I've seen constant exploration of cutting-edge technologies, the consolidation of our DevOps team, and our in-house product projects that offer us the freedom to innovate without external influences."
Hopes for Tomorrow: As for the future, Dan aspires to integrate into other additional projects and enhance our internal resources. For the future of NLT, he expresses, "I hope we keep adjusting to changes in technology, market demand, and working environments while continuing to maintain this marvelous, stable working environment that attracts and retains great people."
This summary aims to provide a more comprehensive view of Dan's journey, insights, and aspirations at NLT.
Dan is more than just a team member; he embodies the values and mission of NLT.
Images and Memories: A Visual Walkthrough
The Path Ahead: Hopes, Dreams, and Promises
As we conclude our 23rd year, our sights are not only set on the horizon but beyond it. The potential of tomorrow propels us forward rather than serving as a foundation for our aspirations. With transformative projects underway, we eagerly anticipate the launch of a pioneering product set to redefine emergency management. Additionally, the unveiling of new capabilities is on the horizon, aiming to advance space-based digital twins in geospatial intelligence. Our path holds much potential, and we hope you will join us for the exciting reveals that lie ahead.
Sign up for our newsletter to stay in the loop with all the exciting updates!
In Conclusion: A Heartfelt Note of Gratitude
As this narrative of our 23 years unfolds, it's evident that our journey hasn't been a solitary one. It's been beautifully interwoven with the stories of our clients, partners, and team members. It's a shared tapestry of dreams realized, challenges overcome, and milestones celebrated.
With deep appreciation and warmth, we look forward to sculpting many more years of innovation, commitment, and excellence. Here's to the next chapter, the next milestone, and the continued journey together.
To the next 23 years and beyond,