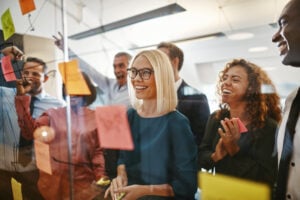 New Light Technologies, Inc. (NLT) nurtures a dynamic culture which seeks out independent thinkers and doers who have the capacity to work through problems. NLT's cultural framework is productive and supportive, knowing that if the employees are happy, the company itself will also naturally do better. As such, NLT is constantly seeking new ideas to improve their workplace for the people who work there.
NLT is a great place for people at all different levels of their career to work at. With exposure and access to new capabilities, along with partnering with all the leading players in the industry, NLT gives its employees great experiences working on projects that cater to their interests.
NLT is an exciting place to be, where your daily routine can vary from working on-site with clients, or giving a presentation somewhere, to even working remotely from the comfort of your home. With profound level of trust among its employees, NLT creates a relaxed atmosphere where co-workers know they can reach out to one another for support. NLT's staff loves to nurture growth in their newer staff members by ensuring that they are educated in NLT's practices and beliefs on how their customers should be treated. At NLT, the focus is on the people, and not the bottom line.