WASHINGTON, DC — New Light Technologies, Inc. is launching a weekly Lunch-and-Learn series called "Tech Tuesdays". It will be a weekly webinar starting at noon Eastern Standard Time every week.
Each meetup will be a little different but will be centered on learning opportunities. Topics will range from high-level concepts such as "What is Innovation" to "Hands On Coding" to the latest in Tech News such as the rapidly changing AI space.
We welcome any and all ideas for possible topics. Even more, we would love to host any potential speakers from outside the company as well. We have lined-up several exciting Tech Tuesday speakers already, and we are currently working on booking more co-hosts over the coming weeks! Please feel free to reach out if you would like to speak one week — we would love to pass the mic!
The recurring event is open to team members, partners, customers, and the entire global tech community.
You can register for the entire Zoom meeting series here!
Each talk will be simultaneously broadcast on NLT's Linkedin, Facebook, Youtube, Twitter, Instagram accounts as well.
See you there!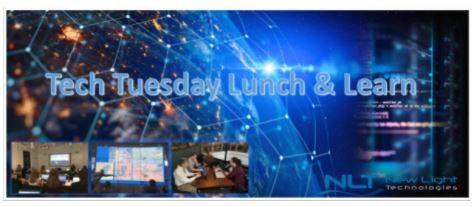 About NLT:
New Light Technologies, Inc. (NLT) provides comprehensive information technology solutions for clients in government, commercial, and non-profit sectors. NLT specializes in DevSecOps enterprise-scale systems integration, development, management, and staffing and offers a unique range of capabilities from Infrastructure Modernization and Cloud Computing to Big Data Analytics, Geospatial Information Systems, and the Development of Software and Web-based Visualization Platforms.
In today's rapidly evolving technological world, successfully developing and deploying digital geospatial software technologies and integrating disparate data across large complex enterprises with diverse user requirements is a challenge. Our innovative award-winning solutions for real-time integrated analytics lead the way in developing highly scalable geospatial solutions for the future.