Authors:
|MAY 04, 2020
Images of Earth taken at night are revolutionizing our ability to measure and understand nearly every dimension of human activity on Earth and allow us to get a glimpse into human-Earth interactions in close to real time. The COVID-19 outbreak exemplifies how nighttime lights can help understand the impacts of shocks on populations, economies, and markets.
Given the interdisciplinary nature of remote sensing–based socioeconomic research, a Special Issue of Remote Sensing will bring together original and novel studies demonstrating innovative applications of analyses based on nighttime lights, to help broaden our understanding of human activity, how it's changing, and a wide range of implications.
Seeing the Impacts of COVID-19 at Night
In mid-December 2019, COVID-19 began emerging in Wuhan, China, and rapidly spread, causing significant impacts not only on people's health, but on the entire economy, the job market and the daily life across the country. Within several weeks the disease was spreading globally, with millions of confirmed cases recorded around the world and significant implications for the global economy.
The need to track and predict outbreaks, as well as understand the impacts of COVID-19 on economies, has led to the utilization of unique sources of data that could help track the spread of the pandemic in close to real time. Satellite observations – including those taken at night – are becoming a primary source of data for tracking the progress of the pandemic and its impacts on energy consumption, transportation, social interactions, the functionality of critical infrastructure, tourism, trade emissions, etc. These images provide a compelling and striking picture of the large-scale impacts of COVID-19 on Earth, from the impacts of the pandemic on businesses and transportation networks to monitoring the gradual recovery of cities around the world.
The idea of using nighttime lights to understand pandemics is not new, and previous studies have already shown, for example, how nighttime lights can be used to estimate seasonal measles epidemics, which are directly linked to spatio-temporal changes in population density as measured by anthropogenic light emissions.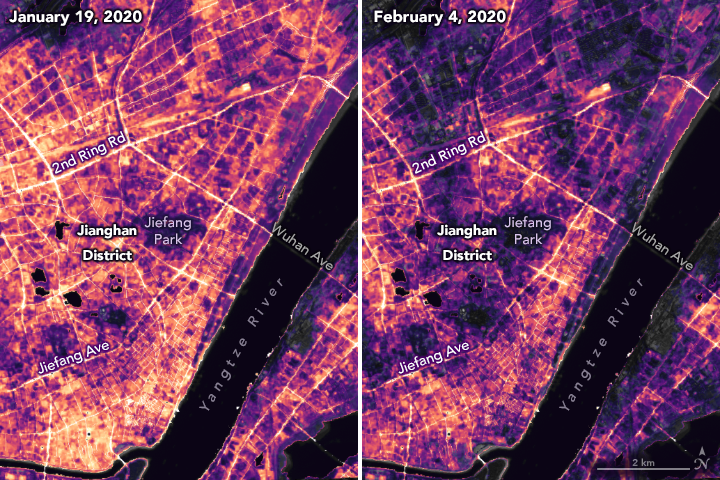 Read the entire article here!