The New Light Technologies, Inc. (NLT) Cloud & Managed Service Offering (MSO) Team has developed automated deployment patterns for the Esri ArcGIS Server Enterprise 10.7 platform. The team's solution includes deployment of ArcGIS for Server, Portal for ArcGIS, GeoEvent Server, Relational Datastore, SpatioTemporal Datastore, and Image Server. It has been implemented in AWS for a large federal organization following industry best practices for scalability, high availability, and security. The deployment also includes configuration of secure servers and an application load balancer over https.
NLT's Managed Service Offering now includes a hosted Enterprise Esri Server solution capability. This solution allows customers to quickly deploy an optimized Esri Server stack, hosted on AWS, Azure, or other cloud platforms. These environment builds follow industry best design patterns for security and management. With Infrastructure-As-Code (IaC), all environments are deployed programmatically via Hashicorp Terraform and are monitored for compliance with the latest in cloud security compliance solutions like Fugue. The NLT-adopted Everything-As-Code (EaC) DevSecOps model incorporates the advantages of IaC for the DevSecOps environment by reducing the cost, increasing the speed, and minimizing the security risks from a typical DevOps approach.

"This current build takes minutes to complete and incorporates all required technical configuration details needed to run securely in a public or private cloud environment" said NLT's lead Cloud Architect David Williams.

It has traditionally been a challenge for many organizations to easily procure, deploy, and maintain enterprise geospatial infrastructures to meet changing functional, security, and business requirements. Our new MSO offering provides an incredibly attractive, secure and cost-effective solution and a way for customers to quickly realize the growing benefits of the cloud!

NLT provides comprehensive cloud hosting and managed services from planning, migration and deployment to ongoing management and optimization. We support and manage the world's leading cloud platforms including AWS, Azure, Google and beyond, saving you the challenge and complexity of doing it yourself. The NLT Team has over 17 years of experience working with Esri technologies with 15 years of those years as a business partner. Stay focused on what you do best with our comprehensive fully managed dedicated hosting using our Everything-as-Code (EaC) Automation Model . Contact us for a free consultation on how to move forward.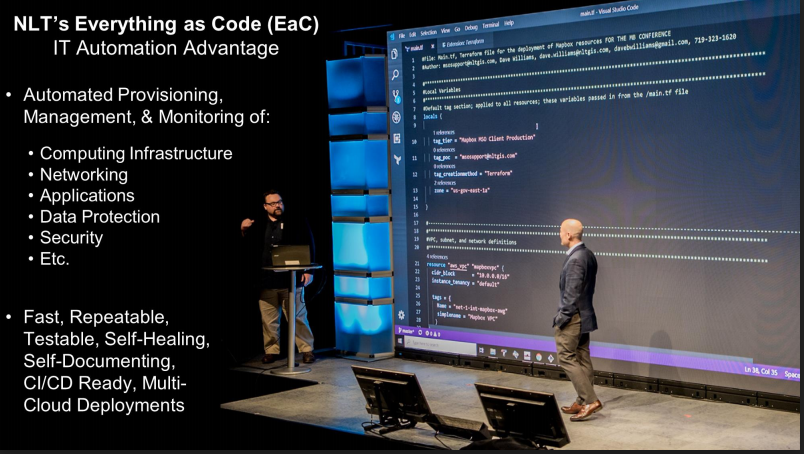 About New Light Technologies Inc.
New Light Technologies, Inc. (NLT) provides comprehensive information technology solutions for clients in government, commercial, and non-profit sectors. NLT specializes in DevSecOps enterprise-scale systems integration, development, management, and staffing and offers a unique range of capabilities from Infrastructure Modernization and Cloud Computing to Big Data Analytics, Geospatial Information Systems, and the Development of Software and Web-based Visualization Platforms.
In today's rapidly evolving technological world, successfully developing and deploying digital geospatial software technologies and integrating disparate data across large complex enterprises with diverse user requirements is a challenge. Our innovative award-winning solutions for real-time integrated analytics lead the way in developing highly scalable geospatial solutions for the future.