Please register for the Zoom event here!
Public cloud technologies available today are changing the way applications are designed and deployed. New cloud-native, serverless architectures enable web applications to be built without costly and cumbersome Virtual Machines (VMs), web servers, and databases, as in the past. Utilizing standard cloud services and content delivery networks, highly robust applications can now be delivered with just a few code and data files. These advancements are revolutionizing the geospatial industry which has traditionally required complex application architectures to provide large data-driven visualizations in the browser.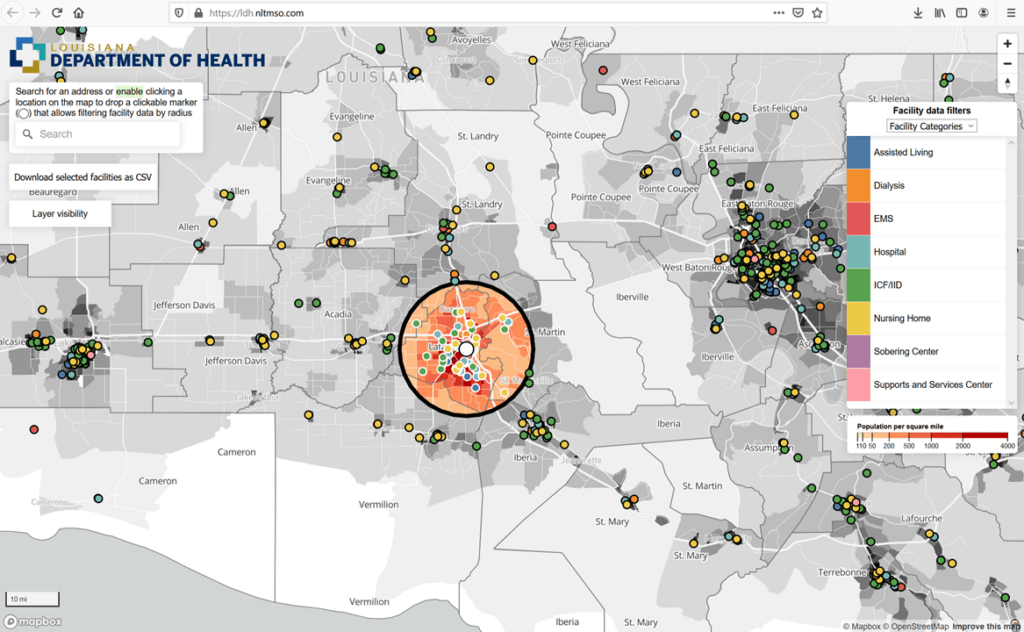 The presentation will include a survey of the technologies available in the market today, including COTS and open-source technologies and data sources from companies and organizations around the world. We'll be showcasing a GIS solution, which we developed for the Louisiana Department of Health, to filter health facilities throughout the state based on several population criteria. The tool utilizes a static and relatively small dataset, making it an ideal candidate for the serverless architecture discussed in the webinar.
We support customers across industries, governments, academic institutions, and commercial customers alike. Sometimes, heavy, back-end solutions are required to get the job done, and other times a stream-lined, low-maintenance approach like GIS-in-the-Browser will suffice. Our expert staff has the depth of technical expertise and aptitude to determine the difference and, in this webinar, they will teach you how to figure out what your particular situation calls for, too.
NLT presenters will include:
Rebecca Boyer: Atmospheric Scientist and Senior Geospatial Consultant
Rebecca specializes in making complex scientific information easy to understand by any audience. She describes herself as an extroverted scientist who is passionate about communications. She is an Atmospheric Scientist & Senior Geospatial Consultant at NLT, currently leading the design, creation, and dissemination of real-time web maps, reports, and informational products that support the natural disasters community.
Dave Williams: Cloud Architect and Senior Consultant
Dave specializes in automating deployment and management of infrastructure as code, accreditation and security implementation, cloud architecture and administration, and leading complex migrations to AWS and Azure environments. Dave has extensive experience managing cloud operations in the commercial and federal sectors including for Boeing, 4tell Solutions, Anthem Health, the Federal Reserve, FEMA, among others.

Corey Guastini: Senior Data Scientist & Application Developer
Corey is working with both national and international clients for NLT, including FEMA and the World Bank Group. Corey's background in atmospheric sciences and application development helps round out the tremendous science and technology team. Corey's using his extensive experience in remote sensing and data analysis to support our clients in streamlining and optimizing their operations.
Carl Anderson: Senior Solutions Architect
With more than 30 years of experience in enterprise IT, Cloud Computing, Application Development, Geospatial & Data Sciences, Carl is a renowned full-stack expert specializing in creating design strategies for software implementations, improving and rebuilding networks for efficiencies, and making systems scalable for large operations. From architecting Spatio-temporal geocoding and data-cubing solutions for the nation's primer data products on the local economy.
Robert Pitts: Program Manager and Senior Consultant
Rob has extensive experience building and managing enterprise Geospatial Information Systems and is a leading expert in large data integration and visualization, real-time disaster response applications, and agile project management. Rob is responsible for overseeing the firm's delivery of innovative scientific, technological, and research solutions to a variety of clients across the government and commercial sectors.
About New Light Technologies, Inc. (NLT):
New Light Technologies, Inc. (NLT) provides comprehensive information technology solutions for clients in government, commercial, and non-profit sectors. NLT specializes in DevSecOps enterprise-scale systems integration, development, management, and staffing and offers a unique range of capabilities from Infrastructure Modernization and Cloud Computing to Big Data Analytics, Geospatial Information Systems, and the Development of Software and Web-based Visualization Platforms.
NLT is an authorized reseller and implementation consulting firm with leading geospatial technology and data providers such as ESRI and MapBox as well as a member of leading industry associations including URISA and USGIF. Our team's approach is to meet our customers' challenges where they are and help them get where they need to be based on their unique technological and regulatory requirements while meeting their budgetary requirements. Visit our website for a sampling of our customers and projects. You can request a free consultation with our team while you are there.
In today's rapidly evolving technological world, successfully developing and deploying digital geospatial software technologies and integrating disparate data across large complex enterprises with diverse user requirements is a challenge. Our innovative award-winning solutions for real-time integrated analytics lead the way in developing highly scalable geospatial solutions for the future. Visit our website for details and contact information.