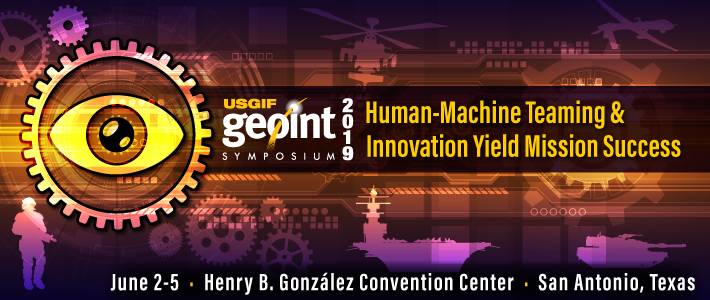 New Light Technologies Inc. (NLT) is proud to have attended the GEOINT Symposium 2019, which took place this year in San Antonio, TX June 2-5 2019.

The GEOINT Symposium

The GEOINT Symposium is organized by the United States Geospatial Intelligence Foundation (USGIF), non-profit, non-lobbying educational organization. It is the nation's largest gathering of industry, academia, and government to include Defense, Intelligence and Homeland Security Communities as well as commercial, Fed/Civil, State and Local geospatial intelligence stakeholders.

The event annually attracts more than 4,000 attendees from all over the world, features more than 250 exhibiting organizations, offers 50 hours of training sessions, and countless opportunities to learn, exchange ideas, and network.

Each year the GEOINT Symposium has brought together an interesting agenda of keynote speakers, panel discussions, breakout sessions, and provided attendees a unique opportunity to learn from leading experts, share best practices, and uncover the latest developments from government, military, and private-sector leaders.

NLT Expands its Services into GEOINT

NLT's expanding GEOINT team attended this year's GEOINT symposium in San Antonio TX! NLT connected with industry partners and leaders from government and academia to further strengthen the firm's relationships and ability to meet specific GEOINT mission needs from secure data collection, processing, and dissemination to real-time collaborative data analysis and mapping in the field. "NLT is able to leverage its team-wide background to meet and exceed customer expectations because of our team's tradecraft experience across the Data Science & Technology spectrum. Our team member experience is spread throughout multiple sectors, such as local, state, federal, public safety, military, intelligence and academia. These multifaceted backgrounds give us the cutting-edge that customers are seeking in the GEOINT space" said Andres J. Cardenal, NLT's GEOINT Program Manager.
About New Light Technologies, Inc.

New Light Technologies Inc., based in Washington DC, provides a broad range of integrated Information Technology (IT) consulting services and products to government, commercial, and non-profit sectors. The firm offers comprehensive DevOps systems integration, development, and management for IT Infrastructure Modernization, Virtualization and Microservices, Cloud & Mobile Computing, Application Development, Geospatial Information Systems (GIS), and Big Data Modeling, Analytics, & Visualization. NLT is a recognized leader in the development of enterprise Geospatial platforms and real-time integrated analytics for mission-critical decision support, planning, and research applications.

Should you need more information, feel free to contact us!