New Light Technologies (NLT) and Planet, a leading provider of near-daily high-resolution data and insights about Earth, recently announced a collaboration to provide the Federal Emergency Management Agency (FEMA) imagery to support enhanced situational awareness for effective disaster response.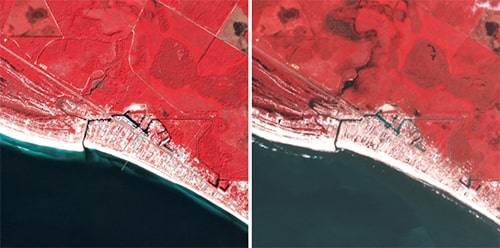 Emergency managers require up-to-date information throughout the lifecycle of an incident on the conditions of impacted communities in order to make decisions about where and how to respond. Planet's high-cadence and high-resolution satellite monitoring capabilities and image archive can provide ongoing regional coverage, enabling disaster risk mitigation, rapid response, and informed recovery.
Through this collaboration, NLT, a renowned leader in the development of satellite-derived analytics and delivery of real-time decision-support systems for emergency management, works directly with FEMA to integrate Planet's near-daily PlanetScope imagery into its disaster response program to assess damages and plan recovery following incidents such as hurricanes and tornadoes. Working together, Planet and NLT rapidly deliver imagery through API and cloud-based platforms to streamline data access and integration with disaster response systems and commercial software platforms such as ESRI and Google Earth Engine.
"We are happy to be partnering with New Light Technologies and FEMA to provide critical information for natural disaster response and resilience efforts," said Nelson Imade, Planet Federal Account Executive. "Our satellites keep a watchful eye over our planet, equipping our partners to be able to respond to and prepare for disasters more quickly, helping to save lives and mitigate economic impact."
The NLT team utilized PlanetScope to evaluate predictive deep learning models of tornado damage, examine the impacts of the New Waverly floods in Texas, and conduct visual assessments of infrastructure damage caused by winter storms. Planet's SkySat satellites have also been employed by FEMA on a tasking basis to gain enhanced high-resolution insights to complement the near-daily datasets. This advanced visual coverage supports the organization's ability to keep impacted communities safe and informed.
Operating the largest fleet of earth observation satellites in history, Planet offers near-daily images of every terrestrial location on Earth, supporting a robust dataset of global change. This data is particularly useful for disaster management as evaluators can gain a before-and-after look at key regions within 24 hours of catastrophic events and effectively target relief efforts. Through Planet's archive imagery dating back to 2009, this time series data will also support FEMA's ability to mitigate risk and plan for climate resilience and adaptation, revealing regional patterns and global change.
Serving FEMA aligns with Planet's continued growth and long-term mission to support global communities by revealing near-daily global change. Earlier this year, Planet entered into a definitive merger agreement with dMY Technology Group, Inc. IV (NYSE:DMYQ), a special purpose acquisition company, to become a publicly-traded company. As it joins the public market, Planet will become a public benefit corporation (PBC), in which its mission will be encoded into its corporate DNA, obligating Planet's directors to stay true to their mission as part of their fiduciary duty to their stockholders. Planet's public benefit purpose is: "To accelerate humanity to a more sustainable, secure and prosperous world by illuminating environmental and social change."
Additional details on the imagery used for this collaboration are provided in Planet's Blog article.
About Planet
Planet is the leading provider of global, near-daily satellite imagery and geospatial solutions. Planet is driven by a mission to image the world every day, and make change visible, accessible and actionable. Founded in 2010 by three NASA scientists, Planet designs, builds, and operates the largest earth observation fleet of imaging satellites, capturing and compiling data from over 3 million images per day. Planet provides mission-critical data, advanced insights, and software solutions to over 700 customers, including the world's leading agriculture, forestry, intelligence, education and finance companies and government agencies, enabling users to simply and effectively derive unique value from satellite imagery. To learn more visit www.planet.com and follow us on Twitter at @planet.
About New Light Technologies
New Light Technologies Inc. (NLT) is a leading provider of integrated science, technology, and mission services based in Washington DC. Offering renowned expertise in cloud, agile software development, cybersecurity, data science, geospatial and remote sensing, NLT provides comprehensive consulting, research, digital transformation services, and fit-for-purpose analytics solutions for a range of industries from emergency management to economics to health. The firm has pioneered real-time geospatial AI/ML predictive analytics platforms for government and industry and led the development of novel methods for leveraging satellite imagery to support disaster response, climate resiliency, impact evaluation, and sustainable development missions worldwide. To learn more visit www.newlighttechnologies.com and follow us on Twitter at @NewLightTech.