NLT Develops Network/Desktop Support Team
DC Office of the Chief Technology Officer
The IT ServUS program provides LAN/WAN and desktop support to Washington, DC, agencies such as DC Public Schools (DCPS), the Office of the Chief Technology Officer (OCTO), the District Department of Transportation (DDOT), the Department of Public Works (DPW), the Office of the Attorney General (OAG), Fire and Emergency Medical Services (FEMS), and the Department of Health (DOH).
The Network/Desktop Support Team is responsible for operational tasks, customer service tickets, and special projects, all involving desktops throughout the city. NLT staffed the Network/Desktop Support Team and was responsible for configuration management, administration of city‐wide software updates via LAN desk software, and deployment and configuration of desktops, laptops, and printers. NLT also analyzed and resolved IT issues, performed asset management, and conducted backup, restoration, and recovery of servers. In short, NLT provided the DC Government with a full end‐to‐end help desk and computer management solution.
Protective Services Division, DC Office of Property Management (OPM) and DC Office of the Chief Technology Officer (OCTO)DC GIS In partnership with CyberCity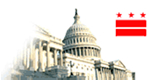 DC's Citywide Integrated Credentialing Program issues and maintains ID and security credentialing for the Protective Services Division of DC's Office of Property Management. OPM and OCTO called on NLT to provide positive ID verification and to meet or exceed post-9/11 recommendations from the Department of Homeland Security.
NLT conducted a requirements analysis, implemented a proof of concept, and carried out an operational pilot. In addition, NLT provided operations management, quality assurance testing, security audits, and citywide standard operating procedures, among other activities. The improvements that NLT effected in network security and upgrading to federal security standards have made the Citywide Integrated Credentialing Program a best-of-breed model for other jurisdictions.
Please contact us for further information on our work with OCTO.