Since 2008, NLT has been providing ongoing research, development, and management support to the U.S. Census Bureau's Longitudinal Employer-Household Dynamics Program within the Center for Economic Studies.
The LEHD program is the nation's premier source for detailed statistics about the local workforce and produces national economic data products about the U.S. labor market along with a set of interactive web applications for dissemination and visualization of these and other data to the public. Through the Local Employment Dynamics (LED) Partnership and use of state-of-the-art geo-computing techniques, state and federal datasets on U.S. workers and firms are integrated on a quarterly basis to form a single, standardized, accurate, national, longitudinal database for examining local workforce dynamics including the locations and distribution of workers and firms, worker flows, hiring and turnover trends, earnings and job histories, and more. These unique features make the data useful for economic modeling, workforce development, transportation planning, and emergency management activities. Additionally, a series of innovative web-based analytical tools has been developed for spatial-temporal examination and visualization of the data.
Research & Data Development
NLT supports ongoing research and development for the production and enhancement of several national public data products offered by LEHD including the Quarterly Workforce Indicators (QWI), LEHD Origin-Destination Employment Statistics (LODES), Job to Job Flows, and other Restricted Use Microdata available to researchers. Areas of research include:
Integration of Federal Worker, Self-Employed Jobs, Firm Age and Size, and other Information into the LEHD Data
New Job-to-Job Flows Data Product
The Development of a National QWI Prototype
Comparisons of Survey and Administrative Data
Activities include the design of the statistical and data matching methodology needed to generate statistics for these data along with the development of quality tests, for identifying data issues and validating enhancements. Activities also include the design and prototyping of enhancements to confidentiality protection methods used including review and implementation of methods such as imputation, noise infusion, synthetic data modeling or a combination in order to eliminate the use of suppressions in the LEHD data products.
NLT is also leading the design and development of a state-of-the-art national geocoding and addressing system for accurately locating U.S. business establishments and where workers live and work. The system is capable of handling longitudinal changes in addresses and geography to cover 150 million workers, 20 million employers, and their relationship through jobs. The new system improves quality, interoperability, scalability, and performance capable of geocoding roughly 1 million records per hour.
Research and development is conducted on secure clustered research blade servers utilizing SAS, R, Pitney Bowes, Oracle, and other big data software.
Web Application Development
To support the demand for access and varying use of the LEHD data, the NLT team provides comprehensive development, implementation, maintenance, and management support for several Web-based interactive data tools including:
These tools provide flexible interfaces for accessing, querying, and visualizing the various workforce and other Census data.  For example, the award winning OnTheMap tool provides a flexible spatially oriented approach for creating, viewing, printing, and downloading maps, demographic profiles, and reports about jobs and the workforce. The tool shows where workers are employed and where they live, providing a unique resource for mapping the travel patterns of workers and identifying small-area workforce characteristics.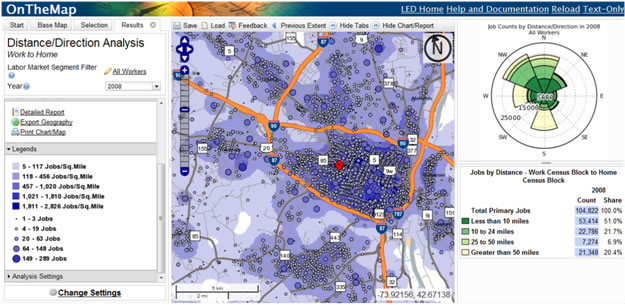 The OnTheMap for Emergency Management application is the only web application that integrates Census Decennial, ACS, and LEHD data (along with data from NOAA/NWS, FEMA, DOI) in a single environment for the public. To do this the application utilizes Services Oriented Architectures (SOA) and approaches for integrating data services from APIs to achieve performance and scalability requirements. More details about the tool can be found on the tool's Help and Documentation page. Technologies include clustered Blade hardware, Linux, Apache, Postgres, PostGIS, MapServer, OpenLayers, Google Maps, and multiple Web services.
Big Data Development & Integration
The capabilities offered by these tools are possible because of a series of underlying geographic databases, developed by NLT, that centrally manage the access, selection, and visualization of data.
NLT supports the development of several national databases and has developed special processes for handling edge-matching, conflation, miss-classification, and scale related issues, for the proper assembly of local and state-based files into integrated topologically and visually accurate databases (required to support complex analyses between layers of data as well as for use in online visualizations and mapping).
NLT is also well known as a leader in the area of Big Data and Data Integration and in understanding and overcoming the many challenges associated with fusing disparate data, particularly geographic and address data. NLT employs a comprehensive approach by evaluating the analytical, operational, and organizational implications of data integration efforts prior to implementation. Additional details are available in the article titled Geospatial Data Integration Challenges and Considerations published in Sensors & Systems magazine by Robert Pitts  in 2013. Technologies include ArcGIS, Python, SAS, Postgres, PostGIS, Pitney Bowes, and Visio, etc.
Training and Outreach
NLT provides comprehensive technical training, marketing, and outreach services on the use of LEHD data and applications for the public and user community. This includes conducting regular technical training classes and webinars as well as the development of all training and marketing materials, such as presentations, manuals, newsletters, flyers, and videos and other training content for the LEHD website and the coordination of the Local Employment Dynamics (LED) partnership Annual Workshop.
Program & Project Management
NLT's management responsibilities cover multiple federal and contractor teams in multiple task areas. NLT provides management support at both the program and project level including comprehensive management for all task areas including careful monitoring of planned activities versus actual accomplishments, critical project issues, budget, schedule, personnel, subcontractors, invoicing, and other monthly reporting requirements. Project level management includes oversight of specific research and development projects including the development and maintenance of several high-visibility public Web-based interactive mapping applications.
Contract Vehicles
GSA Stars II 8(a) Government-wide Acquisition Contract (GWAC)
Multi-tiered Acquisition Framework for Systems Engineering and Integration, Project-level awardee member of Spatial Front team
Please Contact Us for further information on our work with the US Census.